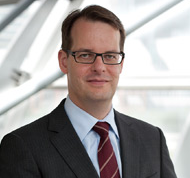 Dear Audience,
Western European retailers are facing their biggest challenge yet. In mature markets with near-zero population growth, the economic crisis has eroded the remaining consumer purchasing power, and competition has become cutthroat. Shareholders are seeing their value dissipate. Western retailers need to find their way back to growth. In the recent study entitled "Revolution or Evolution", Roland Berger Strategy Consultants and EFMI have mapped different strategies for boosting this growth.
Today we talk to Alexander Belderok, expert in consumer goods and supplier innovation, author of the study and Partner at Roland Berger Strategy Consultants in Amsterdam, about new market strategies for Western European retailers …
Roland Berger Strategy Consultants' internationally acclaimed "think: act" publication series plays a major role in the company's position as a thought leader. The publications (think: act, think: act CONTENT, think: act BOOKS) address top-notch decision makers in international business, science and politics. The publications' primary goal is not conveying the consultants' messages to the target group; instead, the publications themselves are the message. This approach has earned think:act a number of international Media Awards: the Astrid Award, the Mercury Excellence Award and – several times – the Best of Corporate Publishing Award.
Ulrich Erik Hinsen