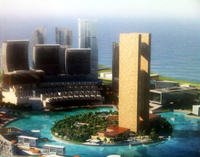 Dear Audience,
The USD 2.5 bn Bahrain Bay development is the most important infrastructure project for this small kingdom in the Arabian Gulf. Forty thousand people will live and work in the new 1.5 square kilometers district …
Roland Berger internationally acclaimed "think: act" publication series plays a major role in the company's position as a thought leader. The publications (think: act, think: act CONTENT, think: act BOOKS) address top-notch decision makers in international business, science and politics. The publications' primary goal is not conveying the consultants' messages to the target group; instead, the publications themselves are the message. This approach has earned think:act a number of international Media Awards: the Astrid Award, the Mercury Excellence Award and – several times – the Best of Corporate Publishing Award.
Ulrich Hinsen | ManagementRadio
GD Star Rating
loading...
GD Star Rating
loading...
The new waterfront city | Strategic Management

,